FemDom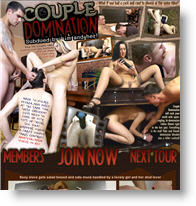 Couple Domination has a very interesting concept: couples who like to dominate male bottoms together.  If you are the type that has a hard time choosing which side of domination you like best, coupledomination.com is perfect. When talking about domination, it's common to see people bickering about which gender makes the best tops. But on this website, they are in perfect synch. After all, they are couples that know each other and work together perfectly well for one single goal: humiliating, torturing, dominating males. And for that they'll use every tool they can, like toys, strap ons and forcing their slaves to crossdress.
You can see it even on the tour that the people at Couple Domination are anything but shy.  There is plenty of man on man action as well as woman on man.  But what they do best is, for sure, when they team up. Things like the Mistress fucking their slave in the ass with a strap on while the Master forces him to suck his cock. Or making the slave lick the fresh cum off the Mistress pussy after the Master was done. It is an interesting contrast to see both Master and Mistress being even tender and gentle to each other sometimes, kissing passionately as they ravage their slave ruthlessly.
There is some undeniable chemistry between the Tops. In one of their preview videos, the one with the guy stuck in a cabinet, for a second I thought I was spying on a regular couple having regular sex in the privacy of their homes. That, of course, until they dragged their poor slave out and had their way with him. Still, even with that intimate feel their material has, all videos and pictures are in high-res.
Examples: Forced Bi Sissy | Dominant Couple | Mistress and Master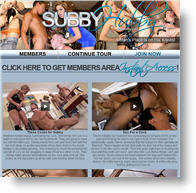 If you love femdom, SubbyHubby is perfect for you. Not only they feature high quality material of girlfriends and wives putting men in their places, their material also has such a huge range it's amazing. If it is a sub-niche of femdom, it for sure will be there.
If I needed to write about all the features on Subby Hubby, I'd have to write a book about it.  They have all kinds of humiliation practices, from small penis humiliation to financial domination.  These gorgeous women are very efficient at putting men where they belong – on their knees! They know how powerful they are, engaging in body worship and foot domination.  But as heartless as they can be, they also want their men to make good slaves, so they give them all sorts of training. Sissy maid training, sexual slavery, masturbation instructions and orgasm denial, they give them the full course.  And if they fail somewhere along their journey, these powerful domes make sure to humiliate them and put them in their place.
The hot and fierce women at SubbyHubby also teach their little bitches how to play with other men.  No sissy maid training is complete without complete cross dressing and making their little pets on some hard cocks.  And sometimes, the best way to teach your worthless slave how a real woman deals with a man is by making him watch – and participate! – in cuckold sessions.  If having to drink another man's jizz from her pussy won't teach him, he's a lost case.
So Subby Hubby is your best stop for femdom. Not only the women there are gorgeous, but they know how to do their parts very well. The material is high quality, as those gorgeous women deserve to be seen in full detail. And the huge assortments of fetishes covered by SubbyHubby never ceases to amaze me, there is something there for everyone. Just a look at their free tour is enough to make you beg for more.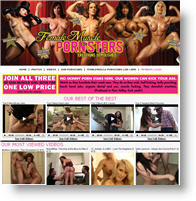 Muscle girls are extremely hot and you'd better watch out as their bodies long for carnal pleasures that you might not bear! Strong and powerful their shapes can squeeze any male in tight embraces making them remember the love hug for quite a long time! You will be delighted to get inside those buff girls and enjoy the hammering as they will inevitably take part in the action and ride your dong like mad female horseman. Gaze at the big clits teased by the dominant females and dream of days when you will have the chance to entertain yourself with nude muscle women. Female Muscle PornStars is the only really worthy place with astounding nude female bodybuilders seeking for conformable males to ram their warm wet cavities! Be the one to try your luck as the ladies can't resist temptation rising in their female muscled bodies and all they need is treating men like a fuck toy in their strong hands willing to grab a cock and give it a fine jerking.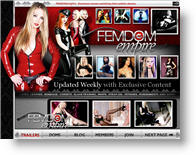 Males beware the wicked femdom madness with hot Goddesses in mouthwatering leather clothing with whiplashes and toys that you will never forget once they penetrate your raunchy soul. Fancy the bitches surrounding the throbbing tool of yours with obvious desire to make you feel the painful pleasure just the one a real slave should feel when his mistress demands satisfaction. Here you can enter the lands of embarrassment and confusion that will remain in the nasty memory of yours for a long time. Once you let the maids take over the power you are doomed to obey the shameless orders 'cause if you don't you will find out what a real pain is. Members are offered tons of femdom stuff with uncensored pleasures leading to inevitable satisfaction with babes struggling to make you cum again and again just don't irritate the mistresses and you will most probably be allowed to touched the tender female flesh. Frequent updates are offering indescribable female domination sexual experience to every humble male slave.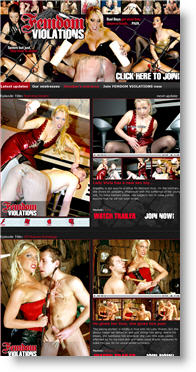 All those who adore beautiful women who take a full control over submissive males and females should take a closer look at this kinky and rather intriguing femdom paysite – Femdom Violations. All the ladies here never let any man dominate in relationships and instead do whatever they want with their obedient slave boys and girls.
First great thing about that website is that all the femdom mistresses here are truly great looking. They are not just pretty girls but really beautiful and gorgeous superior ladies who deserve to be worshipped. Of course they use their beauty to break any resistance of their male subs and to teach them some lessons of obedience. Another amazing feature of Femdom Violations is that here you will find any kind of fetish you like. These babes definitely enjoy variety in BDSM relationships so you should expect to see everything from ass worship to femdom humiliation, forced feminization, lezdom and total degradation of male slaves. Actually it is possible to see all of that in the preview section where you will find sample galleries featuring stunning goddesses who force their obedient subs into ass rimming, spank their bare bums and smother them with magnificent dominant pussies.
The conclusion is pretty simple. If you like what you see on this site you should join and get all of this in the best possible quality. For the reasonable monthly fee you will get access to one of the best femdom sites ever and besides don't forget to check the bonus sites.
Examples: Gorgeous Blonde | Beautiful Violation | Posh Mistress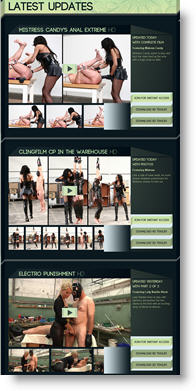 It is really hard to miss such a stylish and great looking femdom website – Kinky Mistresses. It is all about female domination and male submission but it looks quite outstanding comparing to other classic femdom sites. Kinky Mistresses definitely deserves to be explored if you are curious and perverted just as these ladies!
Actually everything that you can find inside the memberzone could be well beyond your expectations. There are tons of videos and all of them are presented in the real HD quality and that is definitely a great advantage. The variety of scenes is also amazing and these videos won't make you bored for a long time. Here is only several of hundreds kinky videos available for subscribed users. First one is dedicated to interracial facesitting and features black and white ladies who smother helpless male slave wrapped in plastics. Second one is concentrated around milking fetish. Stunning lady in sexy leather outfit plays with erected cock of her slave boy and tries to drain his balls using her naughty milking device. Another marvelous femdom clip is about ass play and strapon fucking taken to the extreme. Busty and definitely overexcited domme drills submissive bum of her slave in a hard way using her monstrous strapon dildo! Of course there are many more exciting femdom scenes and each of them looks great.
Kinky Mistresses can be recommended without any hesitations. There are not that many femdom sites of that quality around and for 29.95 per month you will get not only full access to enormous video archive but also will enjoy frequent updates that come out each week!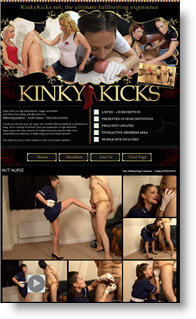 This is a one hell of a dirty female dominant porn collection with hot ladies having fun bringing pain on those manly fuck tools that should be treated in a bit more friendly way but the man's got what he's got and those balls of his are going to experience something he will never forget. Ballbusting is the favorite game of naughty female creatures and they are not planning to stop the filthy partying till you feel completely exhausted. Jamming and squeezing feels too good to stop so don't bet on a fast end to the humiliating ball busting performed by extremely hot female dominant beauties. Men are supposed to be enjoying the cruel sexual treatment but ladies are surely having all the fun stroking and wanking men's tools. It is the feast of flesh where ball busting is the main dish served with spices. There is plenty of kinky teasing and thrilling cock punishing with frequent updates and always 100% exclusive scenes of ballbusting madness.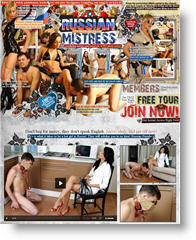 Unseen fierce salve treatment is what you are about to learn here! Gorgeous mistresses with wild uncontrolled ideas of domination have no mercy when it comes to slutty treatment of their male slaves. Once inside nothing will ever drag you out from the HQ Russian female domination galleries! Every member can boast with a fascinating collection of 100% exclusive femdom sex galleries gathered through the years of nasty sexual slavery. Go ahead now and try your luck with busty latex wearing goddesses seeking new fuck toys for their dull routine. Here you will find the restless imagination of kinky maids who long to make you creep at their feet and fulfill all the fuck desires plotting deep inside their cute heads. Frequent updates can make you instantly high with fresh portion of unique femdom series where a man has no power but over his own cock which has to be up once the mistress demands it to be up. Get inside now to experience all the pussy worshipping and face sitting alongside with abusive feet licking and ass slapping that a male can't avoid once in hands of lascivious babes.
Examples: Foot Worship | Tied Slave | Gorgeous Dommes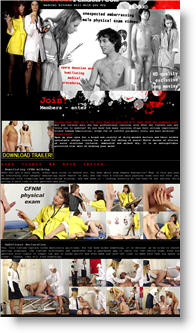 Visiting medical institution for health care purposes you stumbled upon pretty nurses who took care of patients. Those pretty babes must have always stirred up your filthy thoughts making you hard. Well you have this opportunity now to pay a visit to raunchy minded nurses and let them examine your naked male body with skilled hands. Enter the chambers of dominating female nurses and open the world of sexual examinations showing the power of your fellow. They've got plenty of special procedures to humiliate your manly honor and have you at their service for any test! Medical porn is available at Medical Femdom in HQ and every patient is shown from the very step it makes inside the cabinet and up to the very last drop of sperm falling from his dick into the test tube. The show is worth watching and lesbian nurses are especially hot in seductive stockings that they can easily take off to see if you have a proper erecting reaction. Check out the juicy adventures of male patients in hospital with female domination!
Examples: Femdom for Marrieds | Horny Medical Exam | Medical Hardcore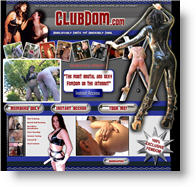 All the brutal female power lovers are welcome to check out naughty slavery land with devilish sexy mistresses playing with a bunch of male slaves in leather masks with chains on their hands. You will find the games too thrilling to leave them aside from your filthy minds, so my advice to you is – rush to have some exciting moments of fierce treatment under the reign of vicious dommes in breathtaking clothing making dicks of their enslaved boys hard enough to be noticed through the panties on them. The ClubDom is a fine example of a delicate dish with all kinds of spicery that will keep you willing 24 a day with constant appetite and desire to have more of those fine flesh pleasures in a company of wild dominas and their incredible sexual imagination making the happening seem to be the brightest fuck thing that has ever happened to you. In all your sinful dreams the mistresses have never been this lascivious and you've got to taste the lust that they are shedding.
Examples: Big and Little Cocks | Ass Licking | Forced Orgasm