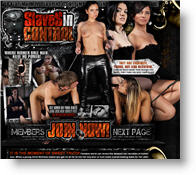 Slaves in Control is all about Female Domination. Just one look at their free tour and you can notice that their Dominas are gorgeous and fierce looking women, who seem to love what they do. The twist in Slaves in Control is that these Mistresses are greedy and not satisfied by just playing with one dirty slave, instead taking a couple each time. That is when the Mistress starts having her fun, forcing her two slaves to do all sorts of things to each other.
The Dominas at slavesincontrol.com are creative when it comes with toying with their playthings. The acts they force upon their little bitches go from making them suck and fuck each other to intense humiliation, like making one slave whip the other or making them both eat from bowls of dog food. There are also some pretty good foot fetish scenes too, as the Mistress are always in high heels made for being licked, adored and used as weapons to punish disobeying slaves.
All the scenes on Slaves in Control seem to be well thought, with good ambience and great sets. And just so you don't miss out on anything on each scene (especially how good looking those fierce Dominas are) all videos and pictures are in high res.
They say the more the merrier, and this sure is the case at slavesincontrol.com. Apparently their Dominas have so much creativity that just one slave isn't enough. It is also the perfect option for those who enjoy beautiful, powerful women and love watching them have their way with both boys and girls. The Mistresses at Slaves in Control sure know how to keep both sides under control.
Examples: Submissive Couple | Trained Male and Female Slaves | Strapon Humiliation and Pleasure