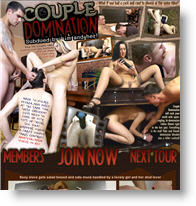 Couple Domination has a very interesting concept: couples who like to dominate male bottoms together.  If you are the type that has a hard time choosing which side of domination you like best, coupledomination.com is perfect. When talking about domination, it's common to see people bickering about which gender makes the best tops. But on this website, they are in perfect synch. After all, they are couples that know each other and work together perfectly well for one single goal: humiliating, torturing, dominating males. And for that they'll use every tool they can, like toys, strap ons and forcing their slaves to crossdress.
You can see it even on the tour that the people at Couple Domination are anything but shy.  There is plenty of man on man action as well as woman on man.  But what they do best is, for sure, when they team up. Things like the Mistress fucking their slave in the ass with a strap on while the Master forces him to suck his cock. Or making the slave lick the fresh cum off the Mistress pussy after the Master was done. It is an interesting contrast to see both Master and Mistress being even tender and gentle to each other sometimes, kissing passionately as they ravage their slave ruthlessly.
There is some undeniable chemistry between the Tops. In one of their preview videos, the one with the guy stuck in a cabinet, for a second I thought I was spying on a regular couple having regular sex in the privacy of their homes. That, of course, until they dragged their poor slave out and had their way with him. Still, even with that intimate feel their material has, all videos and pictures are in high-res.
Examples: Forced Bi Sissy | Dominant Couple | Mistress and Master